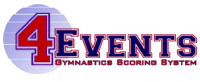 Screen Shots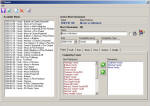 Meet Setup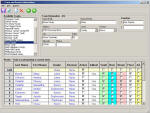 Team Setup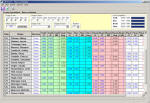 Edit Scores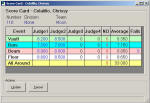 Score Card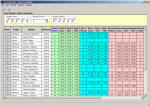 Event Results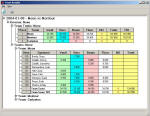 Team Results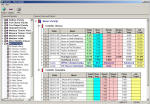 Statistics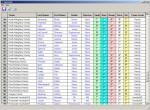 Gymnasts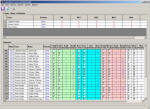 Competitors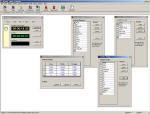 Setup
4Events Gymnastics Scoring System is the solution to gymnastics scoring. Designed as an easy
to use Windows® application, 4Events includes powerful and flexible tools that enable you to
accurately score meets at all levels. Real-time results are available as the meet proceeds.
You will be able to announce the winners as soon as the last gymnast competes.
Features and Functions
Overview
Scoring and results for individual gymnasts, teams and groups
Scoring for event specialists and all-around competitors
User definable tie-breakers rules (None, All scores, Head judge, All Around)
User definable divisions
User definable age groups
User definable sub-groups
User definable competition levels for meets and teams
User definable scoring ranges
Automatic detection of scores out of range
Unlimited number of meets
Unlimited number of teams
Reusable team roster definitions
1, 2, 3, or 4 judges per event
Rotation and competition order for each gymnast
Enter scores in spreadsheet or scorecard mode
Neutral deductions for individuals and teams
Multiple or single databases
Print labels for awards ribbons
Print Score Cards for judging
Print Competition Order Sheets for judging
Print team rotation sheets for coaches
Print gymnast rotation/order sheets for announcements
Integrated Components
Microsoft Outlook® style calendar
Word processing
Internet browsing
Data Export
Export to Microsoft Excel
Export to Microsoft Word
Export to text file
Export to HTML file
Trial Mode
Fully functional software in trial mode
All features and options are enabled
Restriction of creating 2 meets
Restriction of creating 3 teams
Licensed Product
No product restrictions
Licensed to run on a single machine at a time
USB software licensing device for multi-PC use
Free upgrades on future enhancements
Hardware Requirements
IBM compatible PC
Microsoft Windows 7, Vista, XP, 2000, Server 2003
Apple MacBook Pro compatible when running Windows as a virtual machine using VMware or Parallels